As KIDS becomes aware of a crisis situation, our first response is to seek the Lord in prayer. It is one of the most crucial aspects of our ministry and we place great value on hearing God's voice before we act. At present, the prayer focuses are as follows: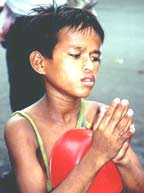 Mauritania:

Pray for the many malnourished children.
Opportunities to share God's love in this Moslim nation

Bosnia:

Healing of the trauma of war
Children of different ethnic groups to reconcile
The many fatherless children
Economic recovery of the families from the hardship of the most recent war

Leadership:

That God would call leaders to minister to children in crisis all around the world
Please relay to us any insights or wisdom that you have received in prayer over these issues by dropping us an email. Your prayers are greatly valued!